HEALTH, SAFETY & THE ENVIRONMENT
The safety and well-being of our staff, our customers, the public and the environment are our highest priority. We exercise sustainable, safety-conscious methods of operation at every level of our organisation.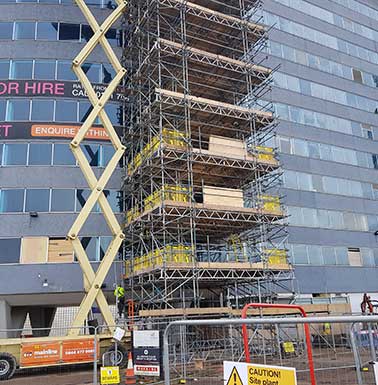 Risk management starts at the top. Senior management with many years of experience take a proactive approach to monitoring Company Health and Safety performance, ensuring staff not only have the right training, but the right mindset.

Every member of the team has a CISRS qualification, with additional qualifications as required by any specific job.

We are members of NASC, passing an annual business and HSE audit.

Every job is approached methodically, with a Risk Assessment and Method Statement (RAMS) specific to the job.

The Method Statement is communicated to staff and customer alike, to ensure full co-operation and understanding.

Work is only allocated to appropriately-qualified individuals.

Correct and adequate Personal Protective Equipment (PPE) is worn at all times in a Working Area.

Safe Working Areas are implemented for the benefit of both customers and staff.

Regular audits of both technical and Health and Safety practices are conducted.

On completion of work, all scaffolds are accompanied by a 'Handover' Certificate.

Following installation, Central Scaffolding (Burton) Ltd provide an inspection service using the 'Scaftag' system, which takes place on a weekly basis, or after adverse weather.
Environmental Sustainability & Human Rights
In January 2017, Central Scaffolding (Burton) Ltd were awarded coveted Gold status by Ecovadis for our achievements in environmental sustainability and human welfare.
We take issues of environmental sustainability and the welfare of our customers and staff very seriously and have policies in place to encourage both our suppliers and our customers to do the same.
We operate an equal opportunities policy.

We support local Community Projects, shows and activities.

We support local sporting clubs and events.